GRIEF SPEAKS
Presentations, Workshops, Keynotes & Counseling
for Children, Teens and Adults
Coping and Growing Through Grief, Loss & Other Tough Stuff
Hiking Blue Ridge Mountains, North Carolina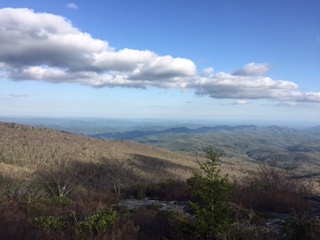 Presented on Companioning Grievers in NC
Grief Speaks presents anywhere in the USA and Canada

Contact Lisa at 973-985-4503 or email lisa@griefspeaks.com
Lisa conducts Skype and phone sessions for those unable to get to her office in NJ
Call Lisa to schedule a free 15 minute phone consultation.
Lisa Athan, Executive Director of Grief Speaks
Grief Specialist and National Speaker
When I am not speaking on grief and loss I hike
Mount Mansfield, Vermont
This website is designed to provide a wealth of information, encouragement and resources to grievers and those who wish to support them.
Those who may benefit from reading the website may be bereaved adults or others who want to best nurture and support children, teenagers or adults through loss situations; teachers, administrators and school counselors wishing to support their school community following the death of a student, parent or staff member;
mental health professionals who are working with grieving children, teens or adults or anyone else who is either faced with a loss of some kind and may feel lost or simply wish to support someone else through grief and loss.
For the griever, some words of wisdom from some of my grieving clients: Please know that you are not alone, even though you will feel that way, don't get too far ahead of yourself as it helps to stay in this very moment. When invitations come to you remind well meaning friends that you don't know how you will feel later today, let alone next Saturday, so ask them to be flexible. Remember to rest, as grieving is exhausting. Crying can be helpful and you can do most things while crying, including driving, ordering pizza and walking the dog. Yet if you find you can't cry don't pressure yourself to. The time may come. Please try to lower your expectations of what you can accomplish right now, ask for some specific help (like to walk your dog or get you some groceries, or for someone else to make some calls for you) even if you find it difficult to do, avoid those who are critical, judgmental or just not supportive as your energy needs to go to what is most important. Or consider letting those who are close to you know how they can be more supportive; what they can do more of or less of. Also even though there is a lump in your throat try to eat small nutritious meals and stay hydrated. Give yourself permission to grieve in your own way and time and to be very gentle and kind to yourself now. Talking to a trusted person, journaling, support groups (for those who want to share and listen to others share) going for a walk or other exercise, drawing, naps, being in nature, music, some movies (that don't have grief as a theme) or light shows, driving, yoga, mindfulness, meditation (Insight Timer is wonderful and a free app for smart phones) warm baths are just a few things that have helped many others. Treat yourself now as you would a dear friend who was suffering a great loss. And know that there are many local and national resources and supports that can assist you at this very difficult time to make navigating a new normal a little less overwhelming. One moment at a time. Take care dear one. And let us always remember to be kind and patient with one another as so many of us are dealing with so much loss and pain. Life can be so challenging but there are always those who show up for us along the way and make us feel cared for and supported. They may not be the ones we expected to show up but if we trust a little bit and look around, we may be comforted by those who do. Many of us find comfort as well from our four legged, unconditionally loving companions.
"No one told me that grief felt so much like fear." ~ C. S. Lewis
"What we once enjoyed and deeply loved we can never lose. For all that we love deeply becomes a part of us." ~ Helen Keller
The loss topics are arranged from A-Z going down the left column of this page.
Topics such as addiction, adoption, death of a friend, children grieving, children and funerals, coping with a suicide loss and many more are there to provide guidance, resources and encouragement at a critical time.
Grief Speaks: Lisa Athan, Executive Director
National Speaker and Grief Specialist
----------------------------------------------------------------------------------------------------------------------------------------------------------
Lisa's presentations touch on a variety of loss experiences in addition to death. Her powerful message of hope, healing and thriving through loss, transition and adversity has been heard by thousands of teens and adults who love and work with children and teens all around the country. Lisa has an amazing ability to connect with her audiences with honesty, authenticity, understanding and a real compassion for their challenges. Audiences also appreciate her caring and timely sence of humor as many share after that they laughed and cried during her presentation. She shares from her heart through her wealth of knowledge and experiences, and from her own personal stories of resiliency and those of other young people who have risen above their own difficult circumstances to lead healthy and satisfying lives. Lisa has been collecting thousands of these stories throughout the years from around the country when she speaks. She currently is in the process of completing a book for grieving teens. Lisa is passionate about normalizing grief in our society.
--------------------------------------------------------------------------------------
Grief Counselor/Grief Specialist,
National Speaker on Coping and Healing Through Different Types of Loss
Speaks to Middle Schools, High Schools, Universities, Conferences, Keynotes, Trainings and Responds to Communities Following a Tragedy
Customized and targeted presentations and keynotes on healthy coping and healing through different types of loss experiences
Death
Coping with Illness in the family
Coping with mental health issues
Loss of home,
Coping with divorce, breakups, family estrangements and other ambiguous loss
Addictions including gambling, substance abuse; living with someone with addiction; giving up addiction
Stigmatized Grief: Navigating grief and loss after a death due to drug overdose
Loss of identity, loss of innocence, loss of safety including bullying and security, loss of hope of a future
Tragedy: Loss by suicide or homicide: communities, schools or families coping with a sudden death
Supporting and educating traumatized children and teens
How adverse childhood experiences and chronic stress affects our youth and How we can intervene
Lisa Athan provides a powerful message of hope, healing and even thriving through loss, transitions in life and adversity
Venues:
Classroom Presentations
Assemblies
Staff Workshops
Parent PTA Programs
Keynotes for Conferences
Communities Following a Loss or Tragedy
Corporate Trainings: for employees or managers supporting employees affected by loss
Office Appointments
Skype and phone sessions
Audiences:
Elementary, Middle School and High School Students
College students
Teachers, School Counselors, Child Study Teams, Administrators, School Nurses
Community First Responders
Parents and Guardians
Community Members
Provide programs focusing on healing and nurturing resiliency while building stronger connections within the community. Helping grieving and traumatized communities come together for healing after a sudden loss or traumatic event.
Share healthy tools and strategies and problem solving skills following a loss. Educate adults and other teenagers on how to identify signs that a peer, friend, family member or co-worker may be struggling and need additional help.
Provide audiences, clients and callers with additional resources including: community grief programs, support group information, relevant books and handouts, websites, and other supports including community volunteer programs for connecting and helping others.
Presentations to 5th grades on Coping with Loss, Transition and Stress in West Orange, NJ 2017
Lisa presented to our 5th grade students about loss, life changes, transitions, and other tough stuff. She was very engaging and students quickly connected with her and opened up about their own experiences. Many students shared their worries about transitioning to middle school. Others expressed feelings about changes in relationships with friends and situations in their families. Lisa shared healthy coping strategies with students and stressed the importance of asking for help when we need it, a lesson we can all use reminding of. I can't wait to have Lisa back next year! – Tara Donatiello, School Counselor
I appreciated that the students were able to discuss sensitive, but extremely relevant topics in school that classroom teachers do not have time or the curriculum to address. Children discuss these topics with each other anyway. It is important for them to have a guided supervised discussion to help them sort out problems and information that they hear, see, experience and give them viable safe options to help them deal with life. – Karen Thompson, 5th grade teacher
5th Grade Student Feedback:
She taught us that we can help others even if we are sad ourselves.
I like how she brought playdough and had games/ activities for interacting so that we felt comfortable and not nervous or strange talking about things.
She told stories that helped us relate to her and feel comfortable talking about our own feelings.
She taught us how to think about how others feel and be nice to them at hard times.
Presented in North Carolina April 26, 2017
Supporting a Griever through Presence and Compassion
Click here to see Lisa Athan, National Speaker and Grief Specialist, speaking in Westport, CT in February, 2016, after the community had suffered a couple of traumatic deaths.
Click Here to Learn More About Grief Speaks
The mission of Grief Speaks is to normalize grief in our 'Get Over It' and 'Move On" society. The vision to give every child, teenager and adult permission to grieve in his or her own way and time, through all different types of losses and transitions. Lisa Athan, Grief Specialist and founder of Grief Speaks, provides presentations, workshops and keynotes all over the country. Lisa is also a grief counselor and grief specialist. Lisa is a counselor for teens and adults coping with different types of loss. Her speaking programs include information on different ways that people grieve, how children and teens cope with loss differently than adults, how to listen with compassion, strategies and tools for grievers and friends of grievers, stories from her extensive experience as a grief recovery specialist and counselor, a wide range of resources and support for children, teens and adults who are coping with grief due to all different types of loss.
Presented at Princeton Univ to faculty and staff
Lisa provides trainings, workshops and assemblies
Presentations, Workshops, In-Service Training, Assemblies, Classroom Programs and Keynotes on Topics Pertaining to Grief in the lives of Children, Teens and Adults Faced with Different Types of Loss.
Lisa Athan serves as a grief consultant and grief counselor for teenagers, adults, families, groups and for communities following a loss of any type. Lisa has an office in Northern NJ, provides sessions via Skype and by phone, and also makes home visits or community calls as a consultant. She conducts presentations and training programs throughout the U.S. and Canada.
To find where Lisa will be speaking next, or has spoken previously, click here to go to her
Calendar page.
For information or to book Lisa for one of your programs contact her at Lisa@griefspeaks.com or call 1-973-985-4503
Sign up for a free monthly Grief Speaks newsletter which is full of information, resources and suggestions on different topics that relate to loss.
Permission to Grieve When Your Children Go Away to College, is an article I wrote for parents who are experiencing grief over sending their children off to college. This article has been circulating around the country and I was even interviewed this morning for a Detroit radio station, for The Warren Pierce Show, with Warren interviewing me after he read it. The original article has had over 1000 comments from parents who also could relate to the sadness after leaving their beloved child at college. Today the Executive Editor of The Patch throughout NJ and PA, Tom Davis, contacted me to let me know he ran the article in every patch this week. I also just got a note from a friend who said that Syracuse University sent it out today to the freshmen parents who left their children last night at SU. To read it on my website simply click:
Presented at the Delaware Council on Problem Gambling as a keynote speaker in Rehoboth Beach and Wilmington, Addictions and Grief
Presented the keynote address for the C.O.P.S.
(Concerns of Police Survivors) Annual Conference in Washington DC
Presented a keynote for the Teens Touched by Cancer Conference in Trenton
Keynote for the Evergreen Council on Problem Gambling's Annual Conference in Washington State. Title: "Grief in 'A Get Over It' and 'Move On' Society".
Conference for the Division of Family Resource & Youth Services Center for Eastern and Central Kentuck. Delivering a six hour training for adults who work with at risk youth and a few more three hour programs. Returned a few months later to cover the rest of the state of Kentucky to provide more 6 hour programs on Supporting Children, Teens and Families Through Grief, Losses and Other Tough Stuff.
Community Coping with a Sudden Loss of a Child: Flew out to Minnesota on 9/11/11 and presented in Hinckley, MN to all of the students from K-12 in assemblies, conducted an afternoon workshop for School Staff and held an evening Community Program that provided education and resources on Nurturing Resiliency while Supporting Grieving Children,Teens and Adults Through Different Loss Situations.

Speaking to High School Seniors in Minnesota
Topic: Teens Coping with Grief, Loss & Other Tough Stuff
Click here to see where Lisa has presented and where she will be next.
Click here to see Lisa Athan as a guest on the cable program, Let's Communicate About Issues in the Family.
A card from a teen from a G.S. presentation
To see more teen cards see "Grief Speaks 4 Teens" on Facebook
Lisa presented in West Monroe, Louisiana
Presented to hundreds of high school students
Grief Speaks: Giving every child, teenager and adult permission to grieve and providing grief with a voice by means of presentations and workshops that provide education, strategies, resources and support for children, teens and adults who are coping with grief due to all different types of loss.
"There are three needs of the griever: To find the words for the loss, to say the words aloud and to know that they have been heard."- Victoria Alexander
Like "Grief Speaks" on Facebook for daily quotes, resources, books and helpful coping suggestions.
Like "Grief Speaks 4 Teens" on Facebook and read anonymous cards written by teens about what they are struggling with, how they feel and what helps them cope.

Please check out Miles, our adorable Grief Speaks' Therapy Dog who stars in some brand new YouTube Clips, as he and friends learns about coping with grief and loss. Visit the Miles page on this site or click here
Grief Speaks conducts workshops, presentations, keynotes and in-service trainings for schools, hospitals, businesses, agencies, communities, and organizations. Lisa speaks to adults, teenagers and children about Coping with Losses, Transitions and Grief. Audiences leave with a better understanding of how grief manifests in children, teens and adults. Lisa teaches that grief is not only from a death loss but from such issues as loss of relationship, loss of possessions, loss of identity, loss of hope and dreams, loss of skills and abilities, loss of the future, loss of safety, loss of environment and more. She teaches that some loss is tangible while other loss is intangible. Lisa provides many coping tools and strategies that can be used by young children, elementary level, middle schoolers and teenagers. Lisa creates an interactive program that changes the way her participants view grief and how they may now support a fellow griever. Lisa speaks all over NJ in elementary, middle and high schools as well as colleges and universities. Students and school staff benefit tremendously from the wide variety of presentation topics that Grief Speaks offers.
Lisa was the keynote speaker for the New York Council on Problem Gambling in Albany on May 11, 2012. Her topic: Gambling and Grief: Exploring the Connections.
Lisa presented to the New Jersey School Counselor's Association Conference in October, 2011 on Supporting Students Coping with a Death: Sudden or Anticipated. Helping students cope with a death of a parent, friend, pet, grandparent or other important person in their lives.

Lisa spoke in Minnesota on September 12 and 13, 2011, to students K-12, faculty and staff of schools and the entire community in an evening program on Coping with Grief and Loss.
Lisa presented an all day program at the New Jersey Community College Counselors' Association Annual Conference on December 10th, 2010. "Responding to a loss: Grief Counseling interventions for community college professionals". Brookdale Community College 8:30AM- 3:30PM
Lisa presented to the NJ State School Nurses' Association at the NJEA Teacher Convention in Atlantic City: a 3 hour workshop: Beyond Band-aids: Supporting Grieving Students as a School Nurse 11/4/10

Lisa presented two sessions for the Wellness Community: When a Family is Affected by Cancer: Strengthening the School's Response "When Students Grieve, How Schools Can Help"- 10/26/10 at the Bridgewater Manor
Lisa presented to the N.J. Community College Counselors for their mini conference on Suicide: What College Counselors Need to Know on 2/18/11
Lisa presented to the Essex County School Nurse Association in February, 2011
Lisa presented at the Bergen County DFYS staff in February 2011
Lisa will be presenting to the N.J.School Counselors Association on When Grief Affects a School in October 2011 for their annual fall conference.
Lisa will be presenting a workshop called Grief and Gambling in September for the Compulsive Gambling Association of NJ at their annual conference.

Lisa will be speaking at an elementary school in Minnesota on Coping with Grief and Loss While Building Resiliency in Children to faculty, students and parents.
Lisa will be facilitating Suicide Prevention Programs to the North Plainfield School System in September, 2011 and February, 2012
Grief Speaks is also available to come out in the event of a loss at school, work or in the community to speak about the loss and grief, which is a very important topic yet often avoided in our society. Often grief becomes like the elephant in the room, clearly present, but often unacknowledged. It is valuable and important that we do not pretend that everything is still the same after a loss has occurred. Unresolved and unacknowledged grief can lead to a lack of joy, depression, unhealthy risk taking behaviors, promiscuity, substance abuse and addictions, emotional problems, difficulty in relationships, academic failure, apathy, delinquency, anxiety, rage, self harm and even suicide or homicide.
Who can benefit from Grief Speaks? Teachers, parents, coaches, physicians, nurses, hospital staff, emergency room staff, EMS workers, fire departments, police departments, First Aid Squads, assisted living facilities and nursing homes, aunts, uncles, camp counselors, youth group directors, YMCA staff, guidance departments, student assistant counselors, school staff and support staff including custodians, bus drivers, lunch aides, office staff, school nurses, board of education members, PTA's, counselors, day care workers, crossing guards, after school staff, coaches, religious teachers and leaders, corporations and employees, and anyone else who would like to learn how to support or assist grieving children, teens or adults in their lives at home, work or in the community.
What Schools Have to Say:
Hi Lisa, This email is long overdue. You can and spoke to my graduate class at Kean University a couple of months ago. I run a grief group at my school for several students and sometimes I feel stuck and unsure which direction to take with them. After listening to you speak, I feel more confident and comfortable running this group. I also passed along the information to their families about the camp (Clover Camp: free bereavement day camp for children ages 7-15 on August 22-26, 2011), support groups and other resources you shared with us. It is extremely important to me as a school counselor and LAC to always have as many resources and as much information as possible to best serve my students and clients. After hearing what you shared you helped me along my path personally as well. You reminded me that it is OK to express my own grief in various ways and that this will be a life-long process for me as well as my family members. Thank you for the reminder to treat myself as lovingly as I do my students and clients. Thank you for all you shared and provided. I have purchased several of the books and resource guides that you brought to show us. They have been extremely successful. You website is a HUGE source of information. I LOVE IT and have shared it with several friends who are school or professional counselors!! You're amazing...keep up the amazing work you do so selflessly each day. I remember you were playing music as we walked into class. Here are two great suggestions for you from a newly released Micheal Jackson album: Hold My Hand and A Place with No Name. Thank you, Thank you. Jodi Hess (School Counselor)
"Lisa gave a presentation to our school guidance counselors that was outstanding: informative, lively, articulate, meaningful, everything we could have asked for. The audience was totally engrossed from start to finish. The material benefited not only every student in the school whom we can now counsel more effectively but every counselor personally as well. Her talk was so dynamic and energetic that we all felt we could have sat for another two hours. I personally wished I had taped the presentation so I could play it back and digest all the little gems of wise advice that were interspersed with her accounts of actual cases. She also brought much wonderful resource material--one of the counselors was so excited, she said she wanted to read each and every book on the table. I would heartily recommend Lisa as a speaker for teachers, counselors and/or students, especially in a situation where many are dealing with crisis situations. She is loaded with good advice and good strategies." November 13, 2009, Shelly Levine, Head of Guidance at Delbarton School, Mendham, NJ
"I had the privilege to meet Lisa when she gave a workshop on Grief and Loss at Passaic County Technical Institute. Co-Workers and I concur that this was one of the best continuing education training we have ever attended. Lisa is extremely knowledgeable in her field and captures each audience she meets as she is a dynamic speaker with a myriad of resources and tools to work with a grieving population. I have always been impressed by how much she puts herself into her work with the populations she serves -- her enthusiasm is contagious. Ever evolving in her scope of practice, Lisa's expansion from consultant into the world of her own company is a credit to her drive to help others and I am pleased to have her as a colleague." November 13, 2009, Stephanie Nauta, Guidance Department at Passaic County Technical Institute where Lisa spoke to the staff for a 2 hour professional development workshop on Supporting Grieving Students. Stephanie is also a professor at Kean University and had Lisa speak in 2008 and 2009 to her graduate students on The Importance of Supporting Students Coping with Grief).
Feedback from the New Jersey Counseling Association Conference 4-10-2010
Presented on Grief, Loss and Healthy Coping at Brookdale Community College
"Excellent speaker!!! Have her back next year!" "Excellent presentation. I have seen Lisa before and she is very knowledgeable and dynamic." "Wonderful, energetic, funny and amazing. A real find. Hope she is back again." "Lisa was great. Loved hearing all of her real life stories. Lots of great one liners." " Great presenter, dynamic and captivating. Great way of using real life examples and experiences to express the outlined concepts." "Fabulous presentation! Really human, warm, funny and compassionate. Bravo!" "Multi sensory, verbal, visual, tactile, clear, funny, complete, inspiring, helpful and excellent!" "Inspiring and informative presentation. Thank you for your preparation and humor which made a usual "untouchable" topic more realistic and helpful." "Phenomenal presentation! Loved it. Best of all I had attended. Engaging." "Very interesting. I wish all people would attend this workshop so they could understand what is and what is not helpful when one is grieving. The books she recommends are great reading." "Excellent speaker. The energy and the comedy!" "You were phenomenal. I held my tears back for 2 hours and my dad died six years ago!" "Presenter was excellent! Great use of humor to keep up attention and interest. Extremely knowledgeable. Loved it!" "Excellent information and vibrant presentation". "Best presentation yet! Hands on, exciting, real examples and ideas to utilize. Energetic, excellent!."
Some Thoughts on Grief
It is crucial that we don't ignore grief or pretend it isn't there. Stuffing and avoiding it only causes it to fade from the surface and erupt later and in different, and often destructive ways. Grief is normal and natural. We need to acknowledge another's loss and grief, be understanding and patient that each person grieves in his own time and in her own way. Say something like "I am so sorry to hear about your loss". So often grievers feel left to handle the loss alone, as others are so afraid of saying the wrong thing, so they say or do nothing.
Offer a hug, send a card, show up, partake in the rituals, acknowledge the loss, bake some cookies, share memories of their loved one, just sit with them and allow them to express their grief. Don't force someone to talk about it. Trust that if a person feels safe, respected and supported during their time of loss, they will grieve. When we love someone and lose them we grieve. Many say that grief is a sign of love. However, we grieve those relationships that were full of conflict and hurt too. Don't assume that the relationship was only positive. It is healthy for the griever to be able to talk about the happy and the less than happy memories. Grant one another permission to grieve. Grief is a process, not an event. In our fast paced world, we long for speed grief. We grow impatient when others are "not over it" yet or "still sad". We think that there is a time frame for grief and often act like the "grief police" letting others know that they are violating their allowed time. Grievers need bumper stickers that read, "I am grieving as fast as I can" or "Griever on Board". We must do the difficult and at times exhausting 'grief work' if we are to begin the healing process and to be able to once again engage in life and relationships fully.
What Schools Say About Grief Speaks:
"Lisa is an engaging speaker who offers useful tools to help people of all ages understand and manage feelings that they may not even know are related to grief and loss. She infuses humor and real life examples into her presentations that everyone can relate to. Lisa is extremely knowledgeable and passionate about her commitment to helping others recognize how grief and loss may be affecting them. I think it's extremely beneficial for parents, educators, and students to attend her talks to help them know what to say and what to do when someone in their lives or communities suffers a loss. I highly recommend attending a Grief Speaks presentation! It's an empowering experience!" Laura Leigh Smith, Ph.D, LPC Corresponding Secretary t for the James Caldwell PTA, Springfield, NJ.
"Didn't want this day to go by before thanking you so much for your wonderful presentation last night!!! It was informative, heart-wrenching, and even humorous (if that is possible!) ...making it a totally enjoyable evening for all! It doesn't matter how many times I hear you speak, you continue to enlighten and inspire me to think outside the box in my daily practice!"
Monica Cattano, Nurse at Jefferson School, Summit
"Thank you for taking the time to present to our school. The staff, students, and parents learned a great deal about recognizing when someone is grieving. We also learned about the many types of losses that may cause someone to grieve. Your presentations at our faculty and PTA meetings helped us to identify grief in others, especially our students, while providing strategies to assist those who are grieving. Through your classroom presentations, our students gained an understanding of how to deal with their own losses and how to be sensitive to anyone who is grieving from a loss. In the short time since your presentations, we have already experienced the benefits from them. The staff, counselor and I have begun using strategies learned to assist our students. On behalf of the entire faculty at James Caldwell School, I appreciate your support and welcome you back next year." David Rennie, Principal at James Caldwell School, Springfield, NJ.
What High School Students Say About Grief Speaks:
"It was so refreshing to have someone talk to us about dealing with different kinds of grief. For me, this was the first time anyone has even spoken to me about how to handle loss. It took so much tension from my life when I realized that all of the anger I was feeling was really just masked grief." HS senior
" Thank you for helping me with my friend who has a dad who was diagnosed with cancer a year ago. He is going to die and now I have learned things to do and say that can be helpful and help her as well through it. Thank you for helping". HS sophomore
"Thanks for coming in. I learned that I am in grief over being overweight My friends tease me a lot and I go along with it and make fun of myself when really it hurts, and I wish so bad that I wasn't overweight." HS Freshman
"I can't thank you enough. My dad died two years ago and not one kid in school talked about my dad after that. You came and gave permission to the kids to talk to me again. My best friend and I haven't spoken in the past two years much at all, and now after your talk, we sat and talked for an hour. He apologized and told me he didn't think he should bring up the death. Now we have our friendship back. I am so grateful that you came in. The kids are now talking to me about my dad and it is a relief."
"I think every student from Kindergarten up through high school should hear these presentations. This is so much more important than math." HS senior
What Middle Schoolers Have to Say to Lisa after her 1 hour presentation in their classroom:
"The assembly was helpful as it taught me that it is okay to cry. My favorite part was when we talked about what helps when we are feeling upset." "I thought this talk was very useful as it taught us how to get your stress out. I like how we got to share stuff on a card with her and she read it outloud and gave us help with our difficulties." "I think Grief Speaks was a cool assmbly. I liked the idea of writing a letter when you are mad, but not sending it to the person. I think I will use these ideas the next time I have to deal with tough stuff in my life." "This program really helped me with dealing with the death of some of my relatives. I now have some things that I can do like make a memory box or write them a letter saying everything I didn't get to say to them. I also learned that you can go to a guidance counselor at school to talk about your problems, not just about school work." "I feel bad for anyone who missed this assembly. It was great. It can save kids from going into gangs or even the wrong crowd. I think it was incredible. I hope that they continue this so the next generation will receive the privilege of hearing this talk!"
What Elementary School Students Have to Say:

"I learned from your presentation that when you are grieving you can talk to someone about it. I also learned that it is okay to be sad when we lose someone we love. I learned a lot from your lesson. It really helped. "
"I thank you for explaining grief. I had it but didn't know what it was called. When I was younger my cat died. I loved him a lot and miss him still. You taught me that is okay. Thanks."
" When you came in I then realized what grief means and what it is. I know what I can do and that it is okay to feel the way I feel."
"You have shown me some ways to get my frustrations out. Thank you for teaching us about grief."
"I learned that it doesn't have to be a death to feel grief. Thank you for teaching us about grief. It is good to know about since we all have losses."
"Thank you for telling us that it isn't our fault when our parents fight or even get divorced. I thought it was my fault. Now I know it isn't. I feel much better now. I am so glad you came to our school."
"Now I know how to make a scream box and am going home to make one for each person in my family. They can stop yelling at each other so much. Thanks."
"Thanks for reading us the book about the cat who died. I got some good ideas now since my dog is old."
"I am glad you came to our school. Adults don't talk to kids much about this stuff and it is something we think about. You let us ask questions and share what we wanted to share. Thank you."
What Teachers Have to Say:
"The presenter was excellent, motivating and relevant to this population." A High School Teacher in Union, NJ

"I am more aware of the grief factor in my students now." A High school teacher in Union, NJ

"Outstanding presentation. My staff had such positive and favorable comments about her presentation and it was very informative. This helped all of our teachers." Virginia Ladd, Director of Far Hills Country Day School, Intermediate School
What Hospitals Have to Say:
"Lisa's talk was phenomenally good. She was spontaneous and absolutely riveting, with more than enough important content to anchor the stories she told. I wish I had the talk on tape, both for the value it had for me personally as well as for professional use. I intend to have her come speak to the family medicine residents here at the hospital. I would urge all of the other residencies to consider her as well." Stuart Green, PMH, LCSW, Associate Director of Overlook Hospital Family Medicine Residency Program, Summit

What Counselors Have to Say:
"Lisa Athan provides exceptional training to both children and adults on how to help children in grief. Through her workshops, she engages participants in understanding the impact of grief through simulations, reflections and sharings while also sharing her keen insight into the grief process. Anyone who has had the privilege of attending such a session led by Lisa is sure to report an "Ah-ha" moment when he or she reaches a new level of understanding. If you are in need of a caring and competent trainer or support person, I urge you to contact Lisa." - Mary Fleck (Facilitator of Peer Support Group , Good Grief)

"She's excellent - I want to put her in my pocket and take her home." Morris County 2008 NJ Student Assistant Professionals Conference
"Lisa was inspiring, funny, engaging with great tools, ideas and book suggestions"
"Your workshop was really engaging and amazing. I learned so much that I am able to apply daily! Thank you for your dedication and knowledge on grief work. It is so important!" Counselor at a Livingston Elementary School (Sept 08)
What Others Have to Say:
"Lisa, We thoroughly enjoyed your presentation at the Glen Rock Jewish Center at the Movin-On Group (for widows and widowers).Your delivery was so engaging. By any measure you are a very effective speaker and educator. I found your comments on living with grief especially stimulating . It was thoughtful of you to add those personal observations. Your talk gave many of us a boost to life . I personally feel much more confident in handling my own grief . Thank you for a very valuable experience. and I hope you can visit us again." With Gratitude Binny
" We pay psychotherapists to cure it, take Prozac to mute it, seek counseling from religions which exhort us to rise above it, read inspirational books to overcome it, join recovery groups and self-help groups to cope with it, spend millions to escape it, use alcohol, drugs, food, work, possessions, sex, entertainment and all the techno-toys we can get to distract ourselves from it." - Margaret Greenspan, Healing Throught the Dark Emotion

Unacknowledged and Unaddressed Grief may Manifest as:
addictions
bullying
cutting and other self injurious behaviors
depression
violence
rage
fatigue
headaches
irritability
acting out behavior
anxiety
eating disorders
fights
isolation
learning difficulties
post traumatic stress disorder
perfectionism
abuse
bullying
suicide
homicide
"There are many sorrows in today's world! These sorrows are due to hunger, to dislodging, to all kinds of illness. I am convinced that the greatest sorrow of all sorrows is to feel alone, to feel unwanted, deprived of all affection. It consists in not having anyone....May we all be instruments of peace, of love, and of compassion." Mother Teresa
It is crucial that we discuss this very important topic that is affecting our present as well as our future. We need to learn how to support one another in grief as well as to learn powerful tools that can encourage and increase resiliency in our youth.
Call to speak to Lisa to discover how she can create a unique presentation or workshop for your school, organization, hospital, business or community group.